The Ottawa Montreal Eastern Canada Diocesan Clerical Council OMECDCC
October 7, 2020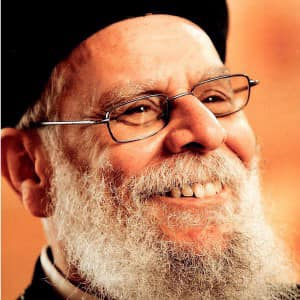 Our beloved Hegumen Abouna Mikhail Aziz departed
November 2, 2020
Statement of Bishop Boulos, Shepherd of the Ottawa, Montreal and Eastern Canada Coptic Orthodox Diocese, regarding the escalation of violence in the Nagorno-Karabakh region:
"We lift up our hearts in prayers for our beleaguered brethren, and we implore our Lord to bring a cession of this ar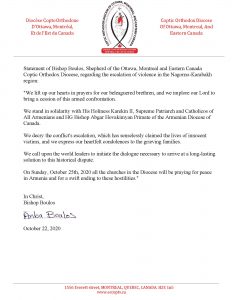 med confrontation.
We stand in solidarity with His Holiness Karekin II, Supreme Patriarch and Catholicos of
All Armenians, and HG Bishop Abgar Hovakimyan Primate of the Armenian Diocese of Canada.
We decry the conflict's escalation, which has senselessly claimed the lives of innocent victims, and we express our heartfelt condolences to the grieving families.
We call upon the world leaders to initiate the dialogue necessary to arrive at a long-lasting solution to this historical dispute.
On Sunday, October 25th, 2020 all the churches in the Diocese will be praying for peace in Armenia and for a swift ending to these hostilities."