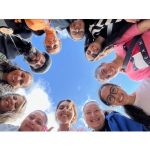 The Senior Youth Convention (SYC) 2023
September 1, 2023
Under the auspice of HG Bishop Boulos, this year's Servants' spiritual day will be held on October 14th, from 8:00 AM to 4:00 PM at the parish of St-George and St -Anthony in Ottawa.
HG Bishop Boulos will be blessing us with two lectures on the subject of "Pure and Undefiled", a reflection on James 1:27.
Cost: $20 for adults and 5$ for children aged 5-12 years old and the cost includes the meals of the day. Activities and supervision services will be provided for the children attending (ages 5-12).
The registration is via the UnityApp
Deadline to register : October 8
Transportation is to be arranged by the attendees.
Please contact Sanaa Yacoub for further information or inquiries:
+1 (613) 799-0262