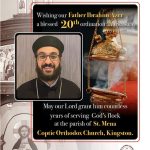 Celebrating the 20th Anniversary of Priesthood of the beloved Fr. Ibrahim Azer
July 13, 2023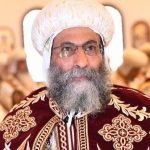 His Grace Bishop Archilides visit to Montreal July 21 2023
July 20, 2023
HG Bishop Boulos paid a pastoral visit to Newfoundland for the NL Coptic Family Retreat.
Highlights included sessions on communication, service integration, self-reflection, and family dynamics. Retreat participants attended the morning liturgy and enjoyed many exciting outdoor activities.
The 4-day retreat was also blessed by the presence of Fr. Demetrios Mousa from St. Maurice Coptic Orthodox Church in Newfoundland, as well as the speakers and attendees of the retreat.