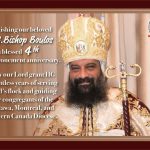 Celebrating the blessed 4th Anniversary of beloved HG. Bishop Boulos
August 20, 2023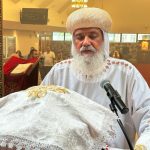 HG Bishop Joseph praying the Divine Liturgy St. Peter and St. Paul 2023
August 25, 2023
On Sunday, September 17, 2023 a live Concert by Ensemble David Youth will be presented at Archangel Michael & Saint Mercurius parish in Laval.
"Echoes of the Coptic Spirit: Ensemble David Youth Concert Experience" is a Coptic experience showcasing our Coptic Heritage and featuring Hymns, praises and Psalms, in 4 languages.
Sunday 17 September 2023
6:00 pm till 8:00 pm
Registration/tickets to be purchased on the UnityApp here:
Tickets are available via the Unity App at a cost of $20 (before September 1st) and $25 after September 1st.
Here is a sneak peak of the upcoming concert